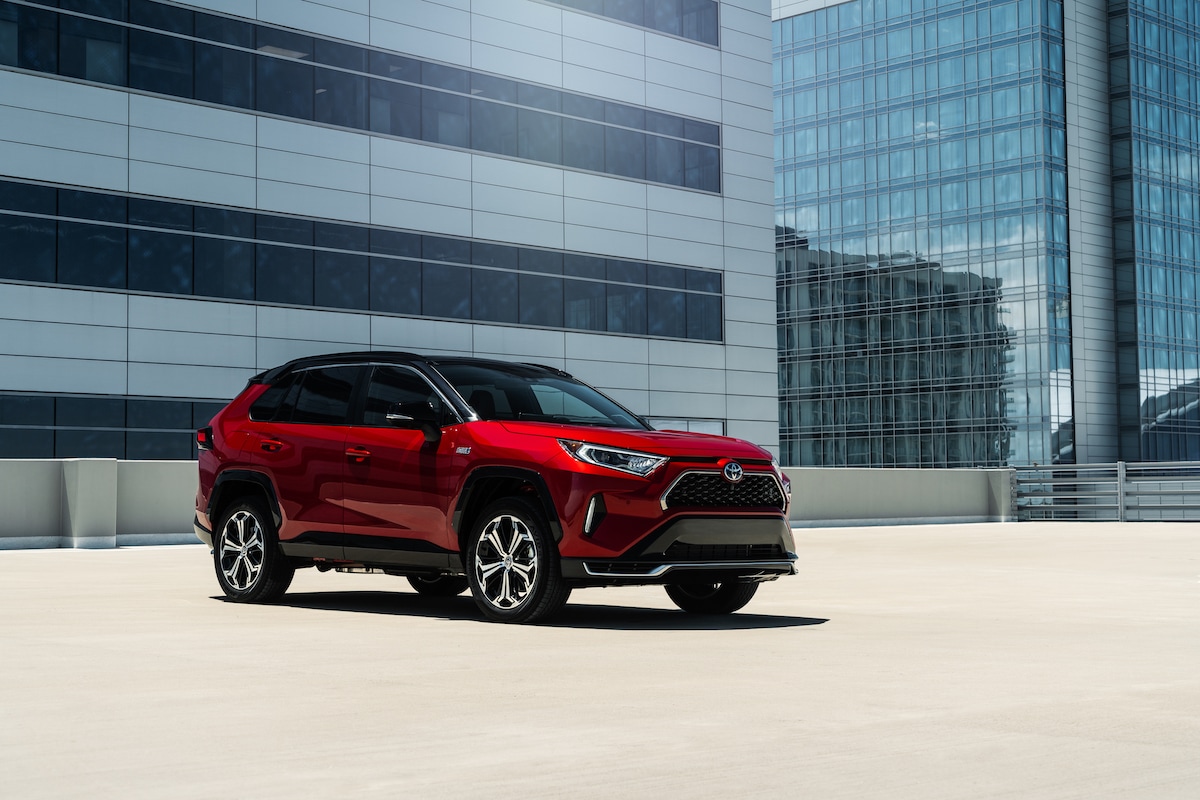 The all-new fifth-generation RAV4 has been out since 2019 and has been a hot seller! The hybrid model provides great fuel economy while not compromising on style, features, or capability. The RAV4 Prime is going to provide groundbreaking technology that will pioneer Prime models for years to come. If you have any questions about reserving the upcoming 2021 Toyota RAV4 Prime, give us a call at Steve Landers Toyota of Northwest Arkansas!
The 2021 Toyota RAV4 Prime is slated to go on sale in the middle of summer 2020 as a 2021 model. The new RAV4 Prime will be the most powerful and quickest RAV4 ever while also being the most fuel-efficient. It does this by combining the normal hybrid powertrain that Toyota drivers are used to with a plug-in battery motor that provides better fuel efficiency and more power.
The RAV4 Prime uses a differently tuned version of the RAV4 Hybrid's 2.5-liter four-cylinder gas engine. It produces the same projected 176 hp as in the hybrid but paired with the electric motors, total system output equals 302 horsepower. This engine propels the RAV4 Prime from 0-60 in just 5.8 seconds. The RAV4 Prime's passenger space isn't compromised by the larger Lithium-Ion battery, as it is mounted under the floor. The mounting position also gives the RAV4 Prime a low center of gravity and enhanced driving stability. The RAV4 Prime can travel up to 39 miles on just battery power which is the highest electric range of any partial hybrid electric vehicle SUV on the market. Combined, it gets 90 MPGe overall.
The 2021 RAV4 Prime will be available in both SE and XSE grades while coming standard with Toyota Safety Sense 2.0 and all-wheel-drive. The RAV4 Prime will also have a few unique touches to differentiate it from the rest of the RAV4 lineup such as an exclusive front grille design, front lower spoiler, Piano Black accents, different seating patterns, and a color heads-up display.
We believe that the RAV4 Prime will pioneer this technology for other Toyota models. This powertrain will be used to replace larger motors in other models to produce more power while being much more efficient. Look for this powertrain in future Toyota models in years to come!
Are you ready to drive into the future with the 2021 Toyota RAV4 Prime? We'd love to get you set up in this all-new model at Steve Landers Toyota of Northwest Arkansas!