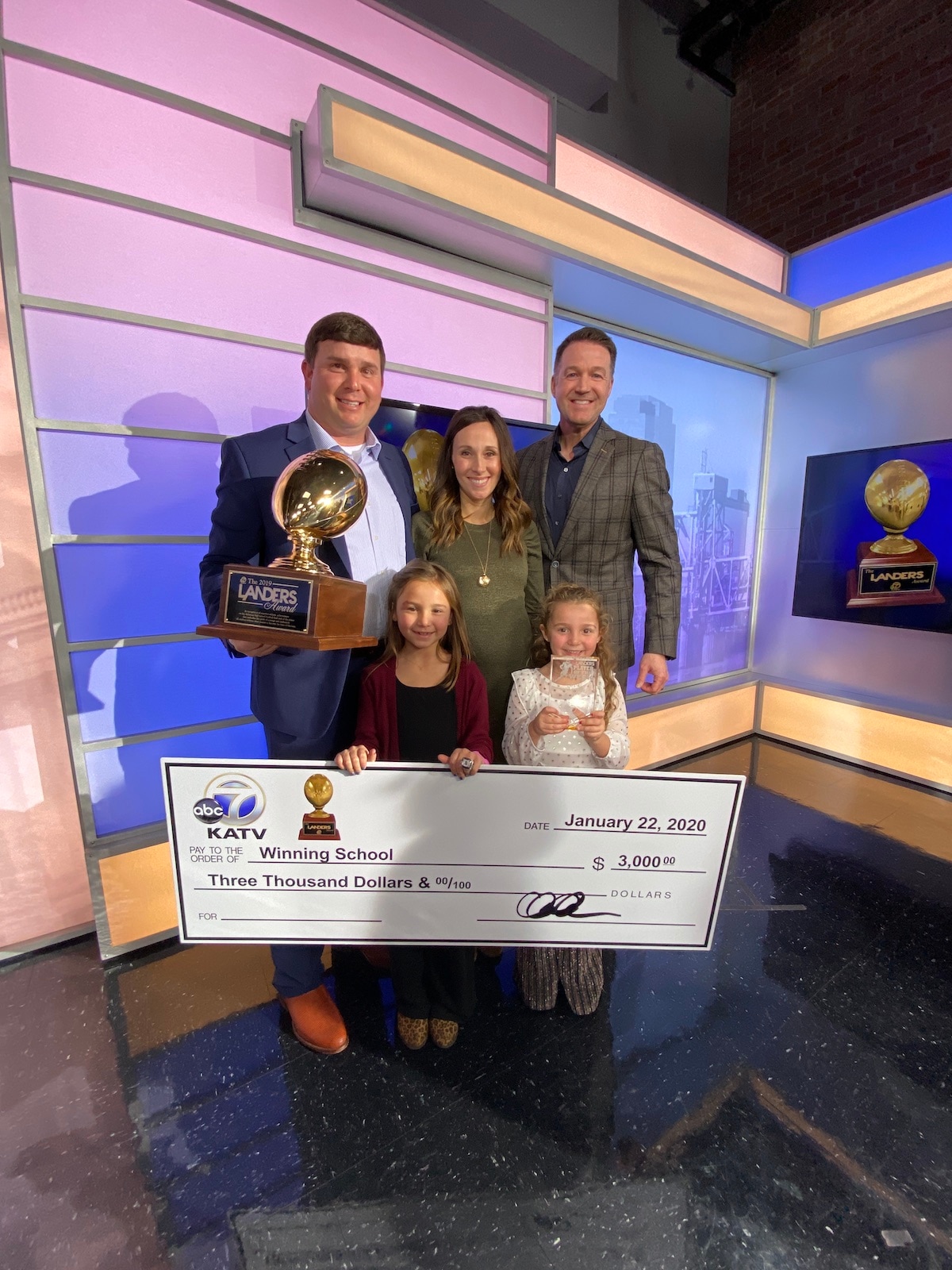 KATV Channel 7 and Steve Landers announced Jacolby Criswell as the winner of the
2019 Landers Award
on Jan. 22, 2020 in Little Rock. Landers and KATV Sports Anchor Steve Sullivan presented Criswell the prestigious award during a special 30-minute live television broadcast. Criswell is a senior at Morrilton High School and will attend North Carolina in the fall.
Criswell received the Landers Award trophy and a signature Jostens ring. Additionally, his high school will receive a $3,000 scholarship in his honor. The other seven nominated players were also in attendance and honored with a special plaque, including:
Brandon Thomas of North Little Rock High School
Jashaud Stewart of Jonesboro High School
KATV also names a special Paul Eells Award winner in honor of the legendary Channel 7 sportscaster. This year's winner is
Tristen Peebles
of Hampton High School. The Paul Eells award honors a player who "exhibits perseverance, determination, courage and resolve in the face of adversity."
Each week during football season, the KATV sports staff chooses a Landers Player of the Week, who is announced during the Thursday evening sportscast. Arkansas broadcasters and reporters then vote for who they believed is deserving of the "Heisman of Arkansas high school football." This year was the 19th for the award.
High school football has long been important to the Landers family. Scott Landers,
who was managing partner of the Landers group's seven dealerships until his death earlier this month
, was a high school football star in his own right as a linebacker at Pulaski Academy. He was named to All-District and All-State teams and received a scholarship to play football at Arkansas Tech University.
Criswell will go on to join an exceptional class of players who have been previously named Landers Award winners, including several who have gone on to play at the NFL level. The previous winners are:
2000:
De'Arrius Howard
of West Memphis
2001:
Reed McKinney
of Warren
2002:
Landon Leach
of Russellville
2003:
Peyton Hillis
of Conway
2004:
Darren McFadden
of Oak Grove
2005:
Damien Williams
of Springdale
2006:
A.J. Whitmore
of Nashville
2007:
Tyler Wilson
of Greenwood
2008:
Spencer Keith
of Pulaski Academy
2009:
Michael Dyer
of Little Rock Christian
2010:
Brandon Allen
of Fayetteville
2011:
Fredi Knighten
of Pulaski Academy
2012:
Drew Morgan
of Greenwood
2013:
Zach Launius
of Cabot
2014:
Ty Storey
of Charleston
2015:
LaDarius Skelton
of Pine Bluff
2016:
Taylor Powell
of Fayetteville
2017:
Connor Noland
of Greenwood
2018:
Justice Hill
of Little Rock Christian
​Watch the 30-minute KATV broadcast here.