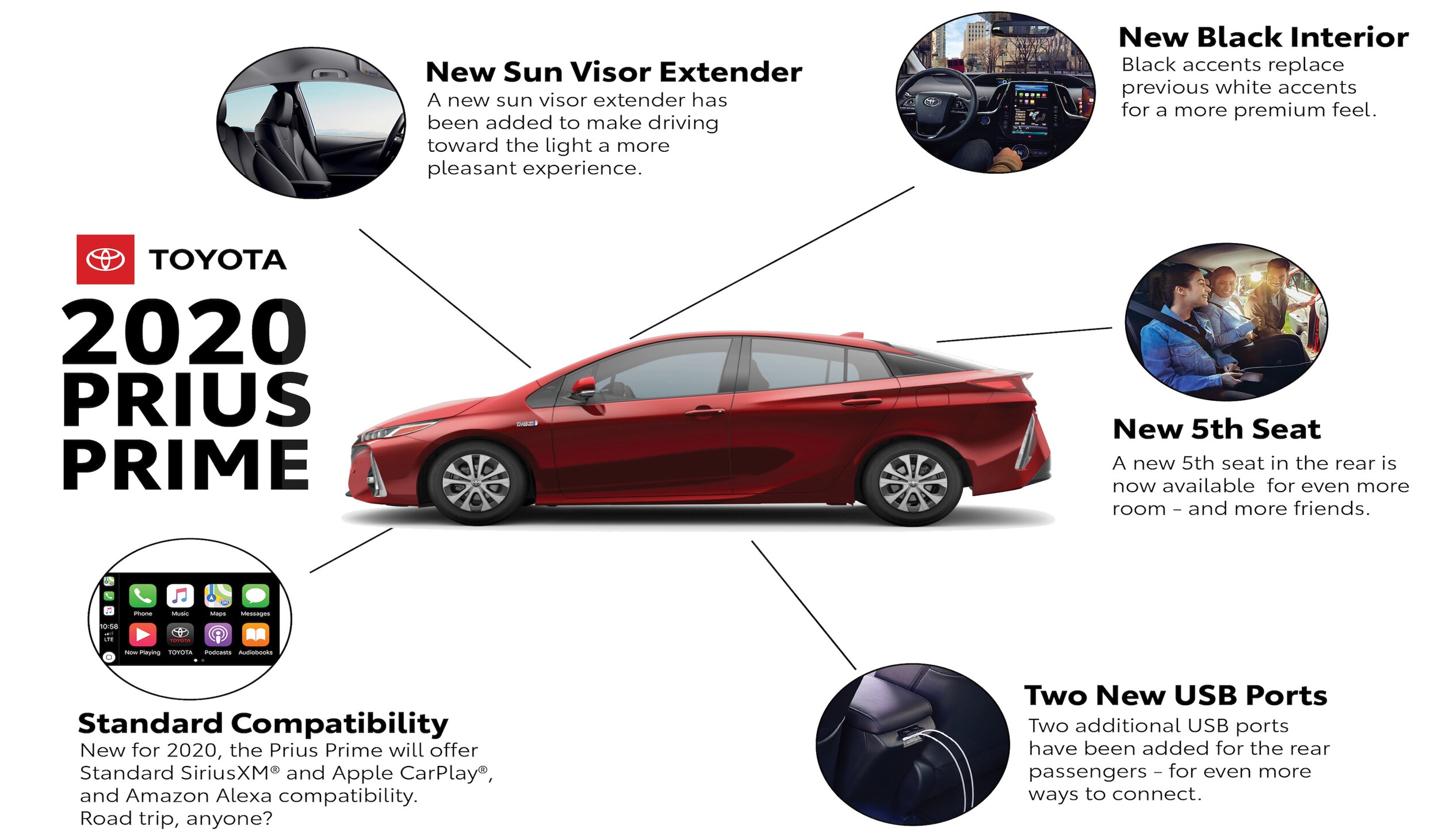 The 2020 Toyota Prius Prime is coming in hot this summer. A significant update from the 2019 Prius Prime, makes the 2020 Prius Prime Toyota's most efficient hybrid plug-in to date.
An all-new option for a 5th seat gives the 2020 Prius Prime a major upgrade from its 2019 counterpart. Previously offered as a 4 seat-only model (a double cup holder sat in between the two passenger seats), the 2020 Prius Prime creates even more room for when you want to pack the car full of friends.
New grades include the 2020 Prius Prime XE, XLE and Limited. Details are sparse, but consumers can be sure that customization options will be expansive. Expect a sun-visor extender and black-leather interior replacements to provide a more premium feel in the 2020 Prius Prime.
The 2020 Prius Prime now comes with standard Apple CarPlay, SiriusXM and Amazon Alexa compatibility. Users can utilize Alexa to make purchases and answer questions from inside the 2020 Prius Prime. The back row now includes two 2.1A USB ports to keep your passengers charged up and ready for the next adventure.
The 2020 Prius Prime just keeps raising the benchmark of what hybrid cars can do. Stay tuned for more news about the 2020 Prius Prime. We're eagerly awaiting the 2020 Toyota Prius Prime here at Steve Landers Toyota Northwest Arkansas and can't wait to get them out on the lot. For more information on the 2020 Prius Prime fill out our contact form and we'll keep you posted as information rolls out and help you find a great deal!