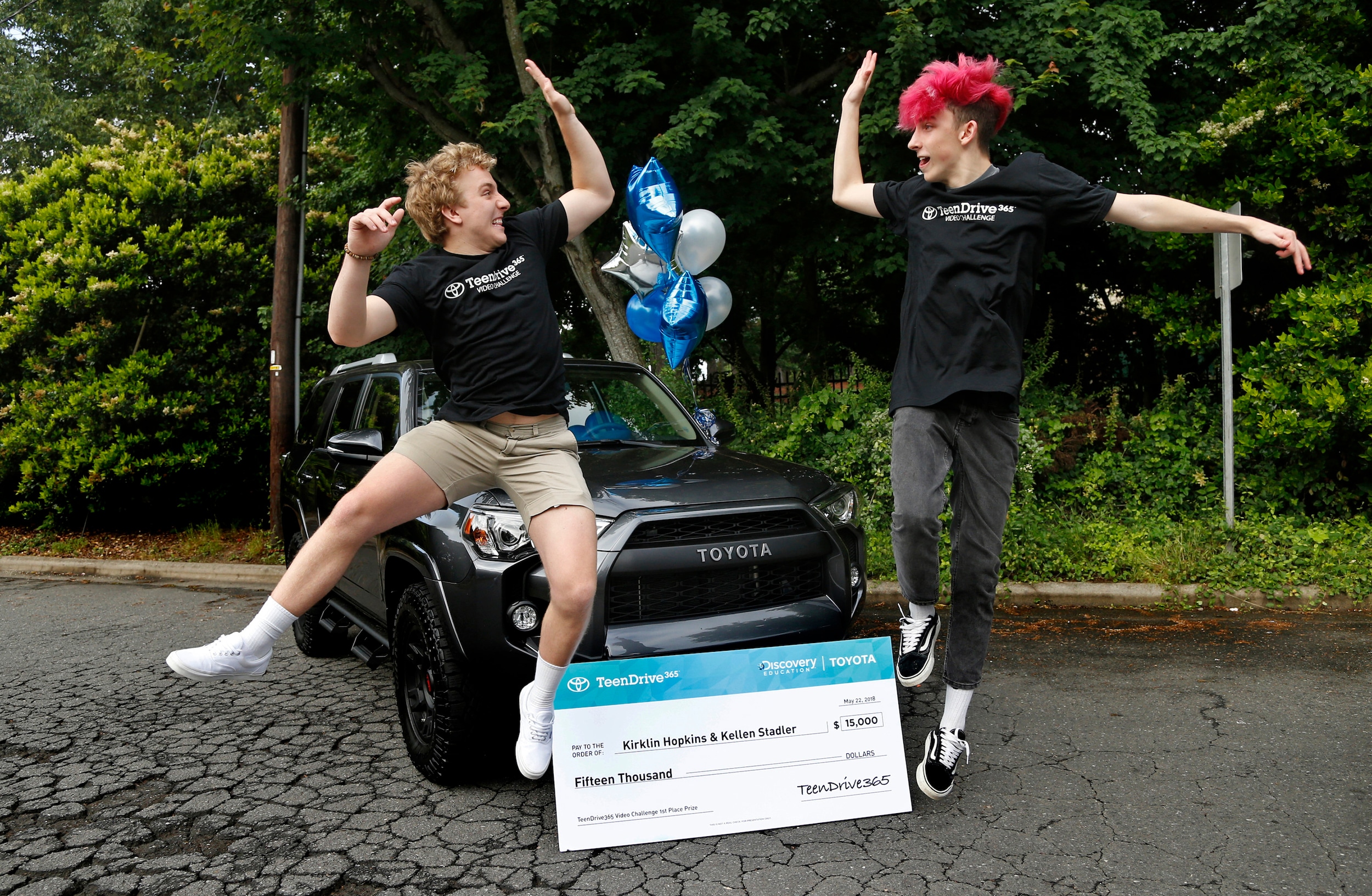 We all know the dangers of texting and driving. High School seniors Kirklin "Mack" Hopkins, 17, and Kellen Stadler, 18, of Charlotte-Mecklenburg Schools in Charlotte, North Carolina want everyone to know the risk of distracted driving with their video "It's Not Fine."
The two teens created the public service announcement (PSA) as part of the Toyota TeenDrive365 Video Challenge. This contest was created seven years ago to encourage teenagers to use the power of storytelling to inspire students to adopt safe driving practices and prompt a dialogue about the importance of driver safety.
"It's Not Fine" was announced the winner out of 1,300 submissions in the nationwide contest.
"'It's Not Fine' delivers a direct and powerful narrative that highlights the dangers of distracted driving and the ability of teens to encourage safe driving behavior,' Toyota Social Innovation General Manager Mike Goss said in a statement.
As the first-place winners of the competition, Hopkins and Stadler received a $15,000 prize as well as the chance to reshoot their video as a ready-for-TV PSA.
"We are very proud of the powerful video storytelling by Mack and Kellen," said Dr. Clayton Wilcox, superintendent of Charlotte-Mecklenburg Schools. "It drives home the dangers of texting and driving in a dramatic, effective way. As a national PSA, it could save lives by showing what happens when you text and drive."
Other winners of the challenge are:
• Second Place, $10,000: "Stupid Stats" by Porter Christensen, Pine View High School in Saint George, Utah
• Third Place, $7,500: "Don't Blind Yourself" by Jake Wieners, Agawam High School in Agawam, Massachusetts
• People's Choice, $7,500: "Magic Won't Help You" by Michael Sivvianakis, Old Rochester Regional High School in Mattapoisett, Massachusetts
• Six additional top 10 finalists will receive $2,500 and four regional winners from the Northeast, Midwest, South and West U.S. regions will receive $1,000.
See all of the finalist videos and learn more about safe driving practices at TeenDrive365.com.