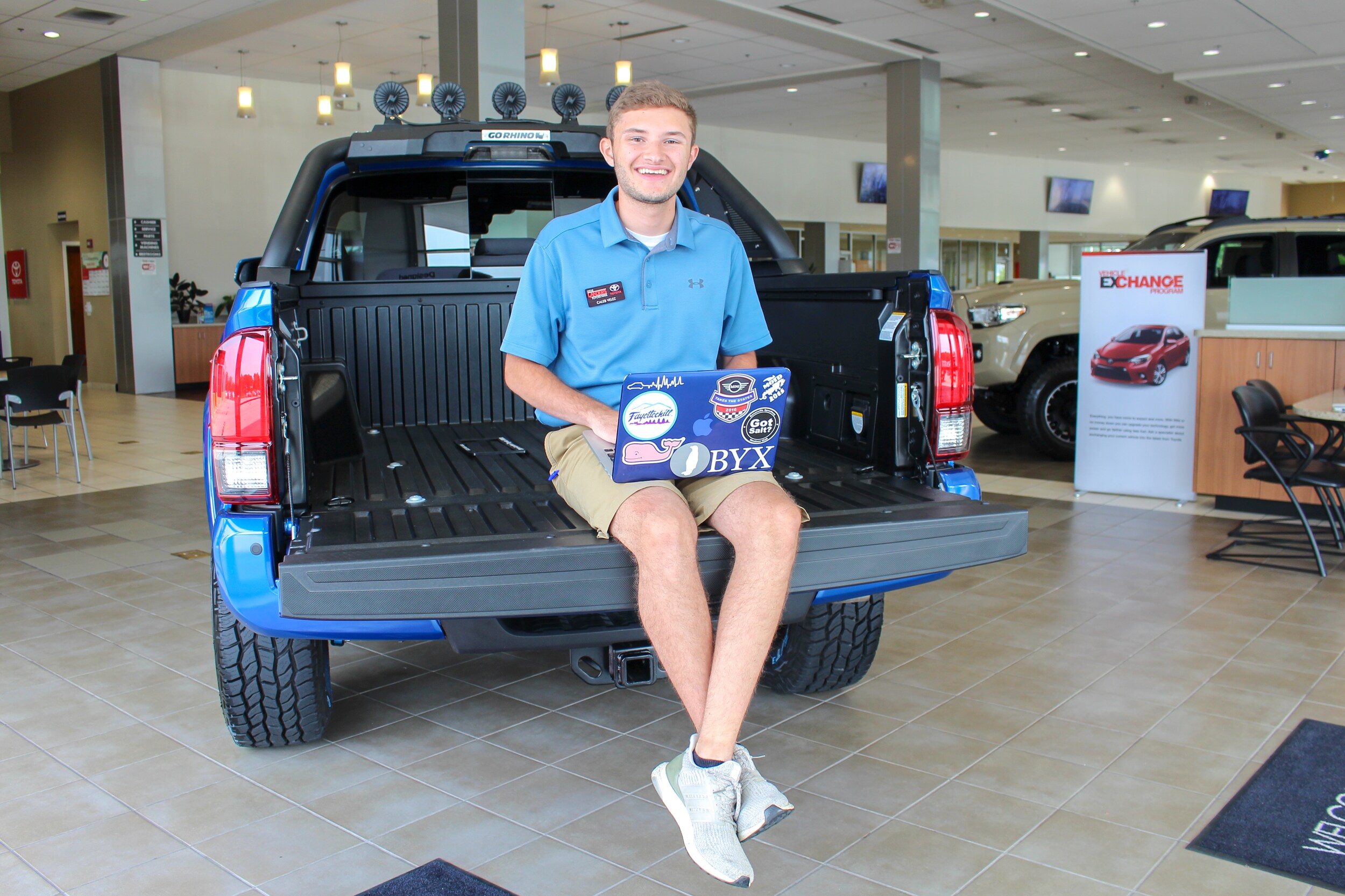 At just 20 years old and still in college, Caleb Velez already has a plan for a career when he graduates and is well on his way to his dream job.
"My goal would be to go into corporate in some sort of car company," Velez said. "Usually at any place you'd need to sell first to get your foot in the door. Getting that early in my career would be helpful. I really like to be creative and I don't just want to sit behind a desk all day. I love meeting new people and talking to them about cars. I hate the stigma of a car salesman."
Velez already has his foot in the door as he's selling vehicles at Steve Landers Toyota of Northwest Arkansas for his second summer as a summer sales associate. He's going into his junior year at the University of Arkansas in Fayetteville and majoring in marketing with a finance and entrepreneurship minor. He's here at the dealership until school starts back in August, but he's available for appointments throughout the year.
Velez had some sales experience before last summer, but working at the dealership is his first "big boy job." By the end of his first week, he had sold his first car, a lifted black Tacoma, and two more that weekend.
That first car was "for a boy who just turned 16 and his mom bought it to surprise him," Velez said. "I delivered it to the neighborhood and put a bow on it so when he showed up he would [see it immediately]. It was the first thing where I could really see the fruits of my labor because I worked about 50 hours that week."
Velez doesn't just sell new Toyotas and pre-owned cars though. He's also handy with a camera and has been creating videos that will soon be published on the Steve Landers Toyota YouTube channel.
"People are buying cars online," he said. "They find us online because of our used car pricing. When they have specific questions, that's for a salesman, but they already know what they're getting into and this can help expedite the process."
Before Velez was selling vehicles and making videos of Toyotas, he was making videos of his own cars because they were modified.
His love of vehicles started at an early age with Hot Wheels and going to dealerships with his grandpa to look at cars on weekends.
"When I was five years old, my aunt got a Mini Cooper and I thought that was the coolest thing in the world," Velez said. "My family members, like five of them, got Mini Coopers when they first came out in the US. I saved up since I was 12 so I could buy one at 16 and I went to Chicago to find the perfect one."
They even take biennial cross-country trips with Mini Takes the States and Mini Cooper rallies throughout the south.
"Last year we drove 10,000 miles in three weeks and saw 39 states," he said.
It's safe to say that a love of all cars, especially Minis and Toyota runs in the Velez family.
"My family, as long as I can remember, has always had a Toyota," he said. "We had a Previa van for 15 years and my grandpa had one of the first Tundras that came out in 2000. My mom had a 1999 RAV4 for 11 years and my grandparents also have a Prius they bought new in 2009 that's going strong in its ninth year.
"My family is a testament to Toyota reliability. Gas mileage is great and the safety is even better. If it's worked as well as it has for my family, I'd love for other families to get one so they can see how good of a product it is."