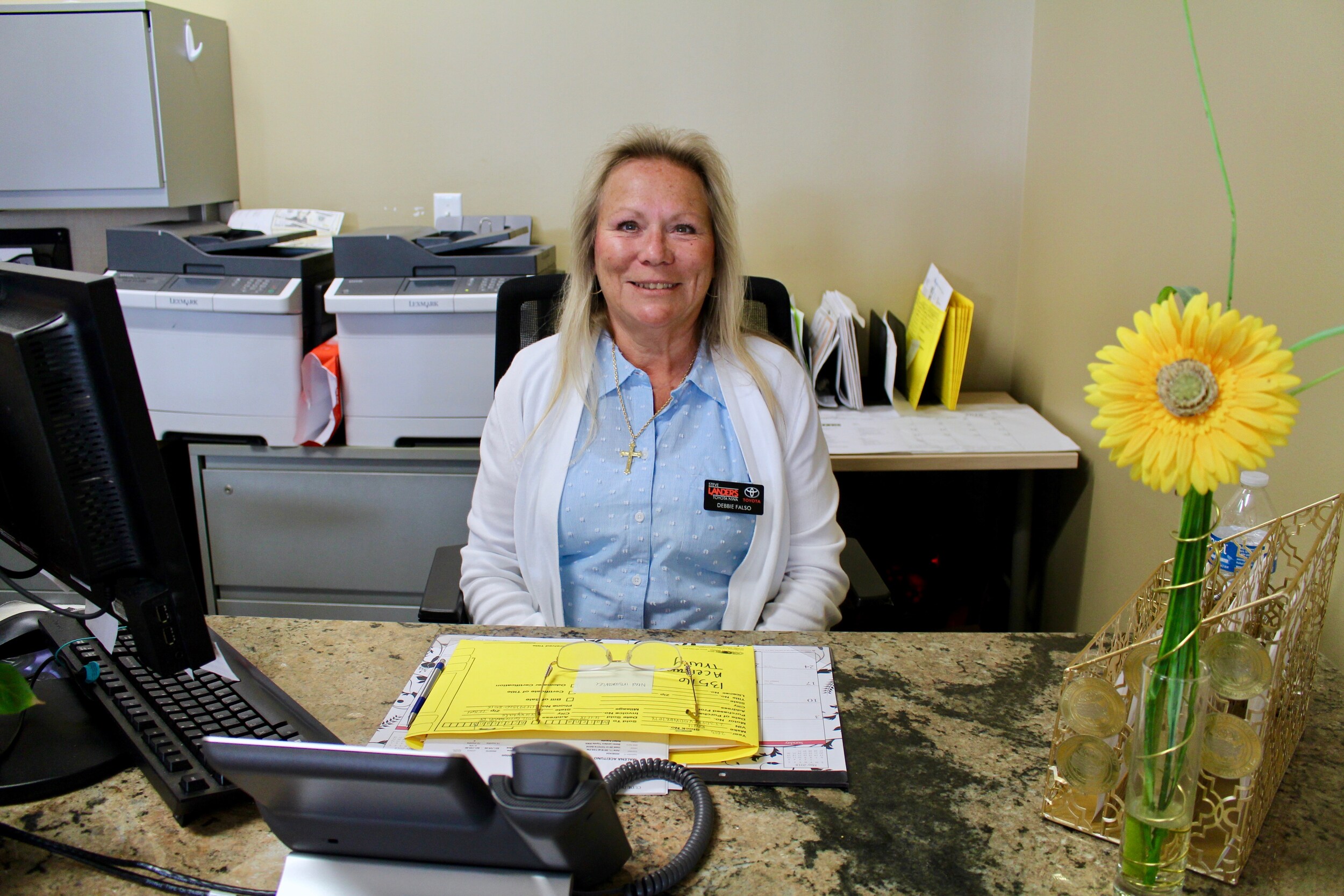 Debbie Falso has been in the car business in some form or fashion since she was 18 years old. She and her soon-to-be husband purchased a service station in Philadelphia, Pa. which they ran for 25 years until he became ill.
"He was doing that before we met," Falso said. "He was the youngest Exxon dealer on the East Coast at the age of 18."
She worked as an office manager at another service station and then at a Volkswagen and Subaru dealership in Pennsylvania before moving to Northwest Arkansas to be close to her daughter and grandson.
"While I was looking for a car to purchase, I put an application in at every dealership I went to," Falso said. "I thought to myself, 'Which do I like best?' and that was Steve Landers. I had an appointment to talk to Rodney [Plack] who is the general manager and within a couple of weeks I was working here."
Falso has been a finance assistant here at Steve Landers Toyota of Northwest Arkansas for the last year.
"I wanted to do something more interesting, something a little more stimulating," she said. "I'd been a financial manager before and when I took this job I was kind of just wanting to slow down a little bit and didn't like the hours a financial manager keeps. I always thought of myself as a numbers girl and was a bookkeeper for our business the whole time and a finance manager. Cars have just always been a part of my life."
Falso knows better than most that working in the automotive industry can mean really long hours and a crazy lifestyle. She had the opportunity to move south to be close to one of her daughters and felt it was the right time for a change.
"It's more relaxed down here," she said. "It's a lot hotter too, but the lifestyle isn't as fast-paced as the north."
She's looking forward to spending the summer relaxing with her family.
"We just put a pool up in the backyard and we call our pool Arkansas Wildwood," Falso said "I always went to the New Jersey shore so I plan on hanging out by the pool a lot this summer.
"We go to the Walton Arts Center in Fayetteville all the time and take trips to Branson. I just took [her four-year-old grandson] to Tulsa, Okla. for his first big-boy time at a monster truck rally."
Falso thinks of her coworkers at Steve Landers Toyota NWA as part of her family too.
"I like the interaction with the finance managers," she said. "The salespeople are down to earth and the sales managers are very helpful. This is a beautiful showroom I'm looking at."