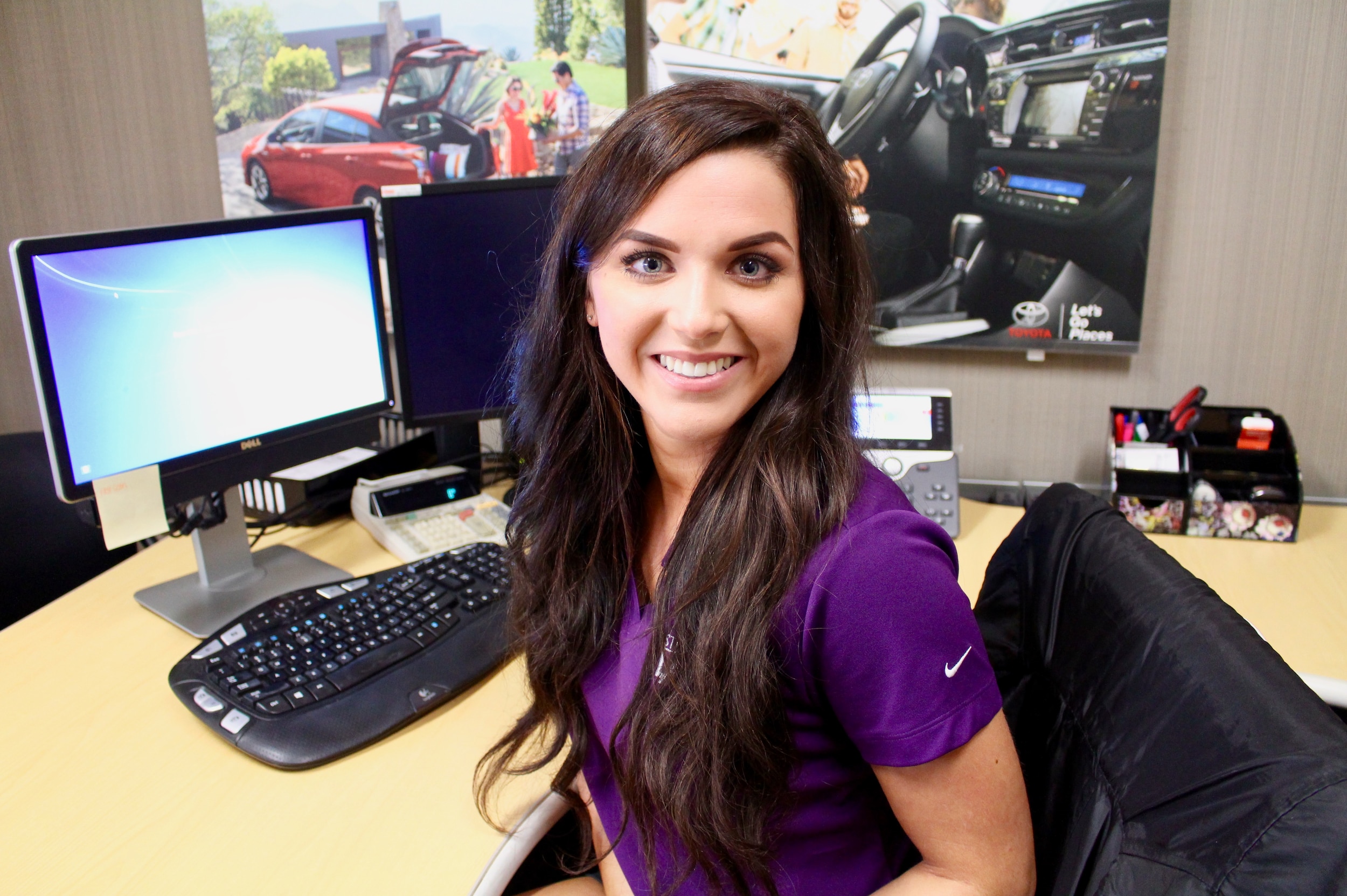 For Blair Brewer, the car business is the family business. Her stepdad has been the fleet manager for the Fayetteville Auto Park for years. Her uncle was a sales manager at another Toyota dealership for a long time as well. Brewer credits her stepfather and uncle as to why she got into the car business.

"I come from a family in the car business," Brewer said. "I started working in reception at the Fayetteville Auto Park and was working under a guy named Victor Alvarado. He was the finance manager at the Toyota store [at the Auto Park] and he moved up here when Steve Landers took over. He texted me one day and asked if I'd be interested in being a finance assistant."

That was almost two and a half years ago. Brewer is a finance assistant as well as the customer relations manager at the dealership. She had time to take on another role and added customer relations manager to her title in March.

As the customer relations manager, Brewer does anything and everything she needs to in order to make sure the customer is taken care of.

"I help with deliveries, make sure the car is clean and remind customers about taking the survey," she said. "I'm there to make sure, at the end of the day, they're happy and don't have any questions or concerns. We want customers to have an exceptional time."
As a finance assistant, Brewer mostly deals with paperwork to make things easier on the finance managers, which is ultimately helpful for the customer.

"It's rewarding to watch people buying a car," she said. "It's one of the top three purchases a person can make."

Brewer likes how her love of people and working with the Toyota brand is something she gets to do every day for work.

"I really like people," she said. "As cliche as it sounds, we're all like a big family. We spend most of our time together and each department works together. We help each other out. We have fun, but we get business done."

Sometimes getting business done means putting in long hours too.

"We don't leave until the last customer leave," she said. "Technically our doors close at 8 p.m., but if a customer walks in at 7:59, we help them."

Brewer has been a Toyota driver long before she started working in the car business, too.

"My first car was a Toyota," she said. "It was a 2007 black Camry. My stepdad came across it on the lot at the Auto Park and bought it for me. My second car was a 2015 RAV4. A red one. I bought my own car 100 percent by myself last April and it's a white Camry from here. I've been true to the Toyota brand since day one."