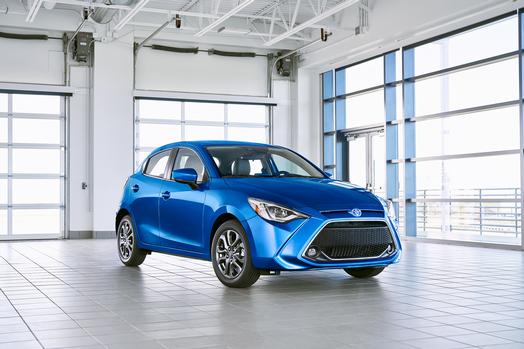 The hatchback is back baby. With a sporty redesign, the 2020 Toyota Yaris Hatchback amplifies the excitement of driving, while racking up safety feature after feature.
When you see that hexagon grille and sharp headlights whip onto the scene, you know the 2020 Yaris Hatchback is here for business. The "cab-rearward" design shows off the Yaris' gutsy attitude and taut lines. With 65 percent ultra high tensile steel, the 2020 Yaris Hatchback is fine tuned for your comfort and makes driving whimsical again.
The Yaris Hatchback's 1.5-liter inline four-cylinder engine keeps the zippy car moving with up to 106 horsepower. Standard six-speed automatic transmission and direct fuel-injection keeps the Yaris' mechanics working in perfect synchronization. Backed by improved handling and ultra-responsive brakes, the 2020 Yaris Hatchback is fit for any street.
Boasting a seven-inch touchscreen display, the Yaris comes equipped with Apple CarPlay, Android Auto and Bluetooth capability for seamless phone/car integration. With options for navigation hardware, leatherette seating, rain sensing windshield wipers and automatic climate control, the LE and XLE Yaris Hatchback grades bring premium design to the table. Customize your ride with up to seven, vivid exterior colors: Chromium, Frost, Icicle, Stealth, Graphite, Pulse and Sapphire.
The 2020 Yaris Hatchback keeps the standard features coming with its safety features. The Low-speed Pre-Collision Safety System lets you know when the Yaris Hatchback senses a potential collision, automatically alerting you to the hazard and applying the brakes should the driver fail to. Among the many safety features are Dynamic Stability Control, an Anti-lock Brake System and Electronic Brake-force Distribution, all ready to keep you driving safe.
It's no wonder that the 2020 Toyota Hatchback is making waves. With a plethora of standard features and the ability to customize your ride to your heart's desire, the Yaris Hatchback promises industry excellence and affordability. At Steve Landers Toyota of Northwest Arkansas, we're excited to see Toyota start rolling these slick rides out. Like what you see? Fill out our contact form and we'll keep you updated on the 2020 Yaris Hatchback.