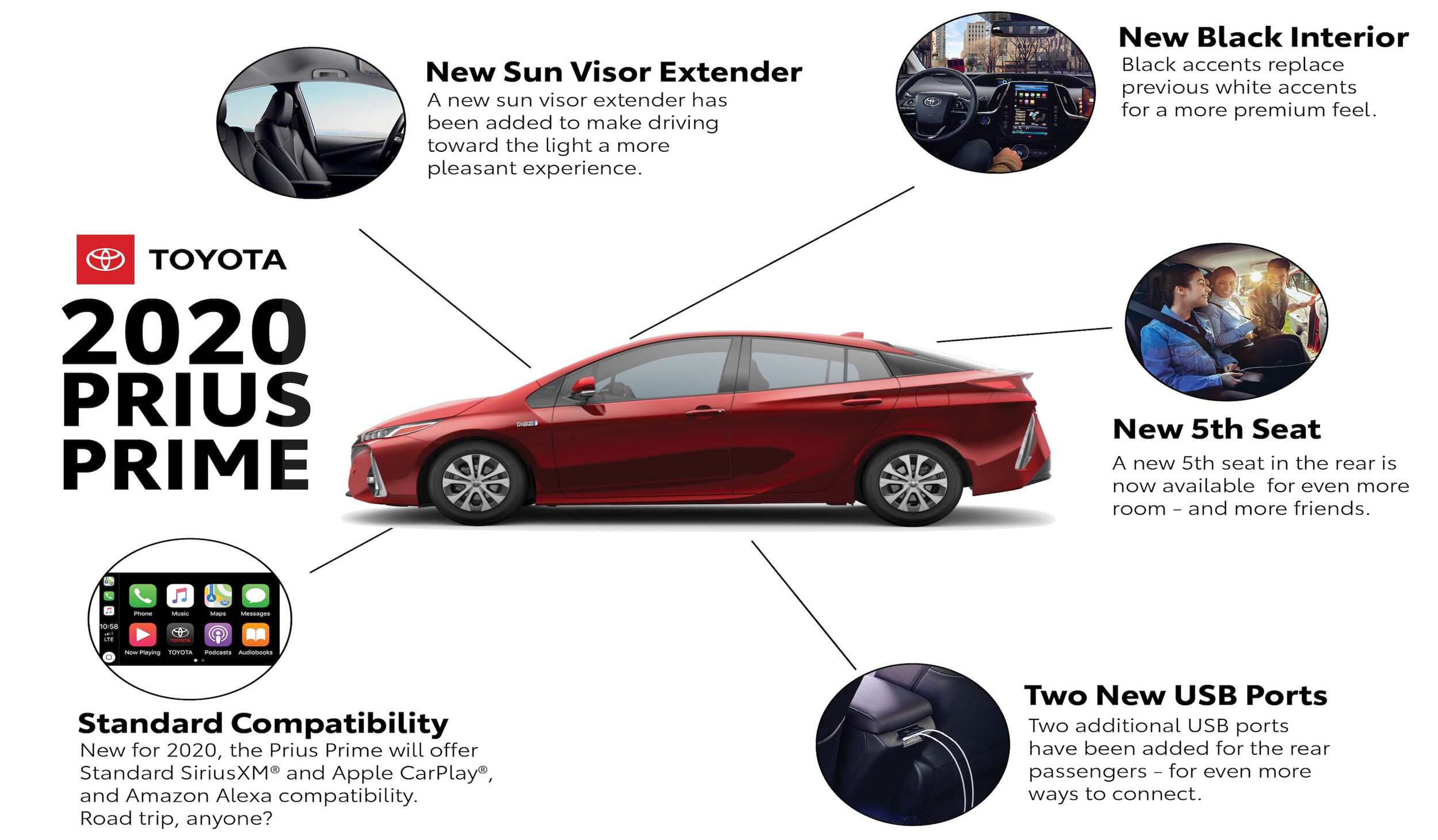 The 2020 Toyota Prius Prime is back and it comes in hot on summer's heels with upgrades from its 2019 counterpart.
View our current selection of the Prius
With an estimated 640-mile driving range, the 2020 Prius Prime packs a huge punch in efficiency. Once the Prius' electric charge depletes, it still maintains an estimated 54 combined mpg. Outputs are displayed in real time on the driver's multifunction information display and help drivers track their battery life and know when it's time for another charge.
You get an estimated 25 miles per electric charge in the Prime until it taps into the internal combustion engine for extended range. If you'd rather run solely on electric power, have no fear because there are more than 16,500 charging stations scattered around the US that are Prius-compatible.
With all this technology, you might be worried about reliability. Toyota is proud of its hybrid and electric powertrains; so much so that for the 2020 model year, they have increased the battery warranty from 8 years or 100,000 miles to 10 years from the date of first use, or 150,000 miles, whichever comes first.
Each grade of the 2020 Toyota Prius Prime comes equipped with Apple CarPlay functionality, as well as SiriusXM and Amazon Alexa integration. Purchase music on the go with Alexa commands, or warm the Prius Prime up with your voice in the mornings thanks to this high tech addition. Minor quality of life adjustments like the sun visor extender and new, black interior seat trims make driving a 2020 Prius Prime feel like a premium experience.
A fifth seat in the back row makes room for an extra friend to tag along on that afternoon adventure or joy ride. Two 2.1 USB charging ports are in the back side of the middle console, allowing a quick charge for your rear passengers and ensuring they're juiced up for whatever comes next.
The 2020 Prius Prime is a big step forward and here at Steve Landers Toyota of Northwest Arkansas we're eager to get these summer cars onto our lot! Can't wait for the 2020 model? Browse our current selection of the 2019 Prius Prime and see if anything strikes your fancy. Want to hold out for the 2020 model? Fill out our contact form on the right or get directions to the dealership and we'll keep in touch as we learn more about the exciting and innovative 2020 Prius Prime!